When Freddie was 14 weeks old we began his training at
K9 Pursuits
in Newton Aycliffe. We did K9's foundation course, which includes the Kennel Club Good Citizen Puppy Foundation, and quickly found out that (a) we really enjoyed training, and (b) Freddie is a clever little pup! The training we do is all reward-based, and for Freddie that reward has to be food every time - but he will do anything for a treat, particularly home-made liver cake. Puppy foundation led on to drop in classes, then Kennel Club bronze, and we were then asked if we wanted to join the puppy agility class.
Now a lot of people in the agility world will tell you that you can't begin training until your dog is at least a year old. But K9 thought long and hard, and decided to try a puppy class, using just the small equipment and importantly with NO jumping, and it turned out to be a great idea. All the puppies in the class, Freddie included, learned really quickly, picking up the basic commands and building confidence.
Freddie absolutely adored agility, and still does. Though the first time he went off-lead in class he did a doodle-dash round the room taking in every bit of equipment through sheer joy. Not quite the control required but a sign of how much he loves it.
So we carried on going, and graduated to 'big boy' class rather than the puppies, learning the big equipment and started jumping. And in July 2010 we joined
South Durham Dog Agility Club
. They are a great club, with chance to practice on full courses. We practice Saturday mornings and Tuesday nights at Hurworth Moor.
Here's some pictures of Freddie's first ever taste of agility: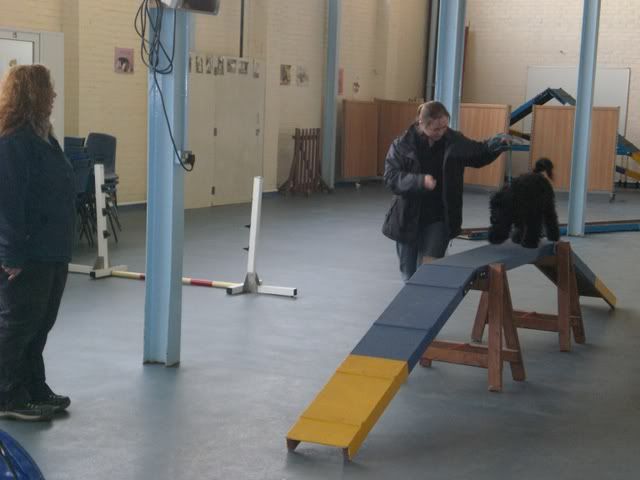 Read on to hear about Freddie's first competition...