I've never written a blog before, but feel inspired to keep a record of the trials and tribulations as I try to get started in the field of dog agility with Freddie, my gorgeous cockerpoo. So... where to start. Maybe with a bit about me and my doggies.
I'm Jo, currently 33, and work as a civil servant. Two years ago I went for my singing lesson (another hobby of mine), and was greeted at my teacher's house with the cutest little bundle of brown fluff I had ever seen. This turned out to be Rosie, a cockerpoo puppy and the sweetest thing I had ever seen. I rushed home to OH and somehow managed to convince him that it would be a good idea for us to get a dog. So off I went on the internet searching for a litter, and found Foxisle Gundogs who had one puppy left in a litter. It was meant to be! And on 6 October 2008 we set off to Doncaster to pick up our puppy. At the time I was rehearsing for 'The Pirates of Penzance' playing Mabel (the female lead) and so we named our puppy Freddie, after the lead male character in Pirates - 'Frederic'.
Freddie is a cross between an English Cocker Spaniel and a Miniature Poodle, both black, and Freddie is black with a bit of white on his chest and bottom lip. He is quite a little character, very loving and sooo sensitive. This is Freddie as a youngster: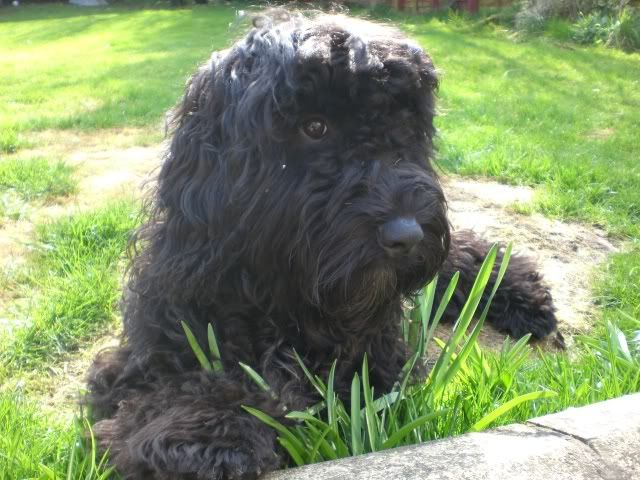 And this is him last week, on his 2nd birthday:
This blog is about Freddie, but I should also introduce our other dogs - yes Freddie only stayed an 'only dog' until he was eight months! We then spotted a tiny cockerpoo baby on the site for Many Tears Animal Rescue, and adopted our little girlie in April 2009. She is called Darcey, and is a tiny 12" tall apricot toy cockerpoo. She is a little Diva girl who gets away with murder and rules the roost in our house!
And in March this year we brought home Jasper, our chocolate F2 labradoodle. He is one huge puppy, but the happiest dog I have ever met, and fitted in with our little pack really well. This is the three of them together: